Meet the Team
Canadian Certified Pedorthists
Andrew Godwin
B Sc.Kin C.Ped (C)
Canadian Certified Pedorthist
---
Andrew graduated from Simon Fraser University with a Bachelor of Science Degree in Kinesiology. Building and designing things has always been a passion. After graduating then ski patrolling, he started into the Pedorthic world of Bracing and Orthotics in Vancouver in 1992. He then co-started Okaped in Kelowna with one of his current partners Paul in 1997.
Along with working on clients' biomechanical issues on a daily basis he has designed many specialty braces over the years, from patented shoulder dislocation supports "NoDisco Strap" to post cannulation radial artery clamps "RadArt Clamp". Andrew has been active in all sports including soccer, rugby, skiing, windsurfing, mountain biking, and has been on both sides of healthcare, suffering from many fractures, herniations, sprains, and separations. This is a fitting career for Andrew as he has been able to use many of the items that he helps design and fit for people now. Andrew lives in Kelowna with his 3 great kids and loves getting them outdoors to enjoy adventure and many sports.
Paul Rauhala
H.B.P.E. C.Ped (C)
Canadian Certified Pedorthist
---
Paul Rauhala was born and raised in Thunder Bay Ontario, attending Lakehead University with a Honours degree in Physical Education. Pedorthic apprenticeship began in 1993 in Vancouver where he met his present business partners Andrew Godwin and Jeff Fink. In 1997 a move to the Okanagan provided the opportunity to establish the first custom orthotics clinic in Kelowna with the present partners, then expanding to Vernon, Penticton, and West Kelowna.
Paul is married and has two children whom he has volunteered as a coach in soccer and is an avid volunteer in alpine racing. Skiing is a passion in the winter and Kayaking in the summer. If your wondering about the nationality of his last name, it's not Hawaiian, it's Finnish.
Jeff Fink
H.B.P.E C.Ped (C)
Canadian Certified Pedorthist
---
Jeff graduated from the University of Western Ontario where he majored in Athletic Injuries and received a degree in Honors Physical Education. After Graduating he moved west and in 1991 started his Pedorthic training in Vancouver BC. In December of 1999 Jeff moved to Kelowna and joined OKAPED as a partner.  Jeff is a past President of the Pedorthic Association of Canada and a previous chair on the College of Pedorthics of Canada. In 2019 Jeff was awarded the Michael Van Vlack Memorial Leadership Award for proven leadership and exceptional commitment to his Profession, Family and Community. He currently volunteers for the Pedorthic Association of Canada on the Insurance and Government relations Committee. He has been active in many sports throughout his life including football, rugby, downhill and XC skiing as well road and mountain bike riding and racing. His current sporting itch is paddling SUP, Outrigger Canoe as well as Surfski. Jeff practices in Kelowna at the new Pandosy office but also sees patients at the Vernon office as well. Jeff lives in Kelowna with his loving wife.  They have two incredible daughters who are the joy of their life.
Davis DesRochers
B.Kin, C.Ped (C) C.Ped Tech (C)
Canadian Certified Pedorthist
---
Davis attended the University of Regina and graduated with a Bachelor of Kinesiology. He joined OKAPED in 2008 and sees patients in our Penticton, West Kelowna and Kelowna locations. Davis joined Andrew, Paul and Jeff as partner in the Penticton clinic in 2013 and the Kelowna clinics in 2021. Davis chose this career as he had always been interested and passionate about health and the human body. At all clinics Davis helps clients with their Pedorthic needs and braces for every part of the body including, knees, ankles, and wrists. When not at work you will find him hiking or trail running with his wife and pup Henry, snowboarding, snowshoeing, camping, SUP……..you get the picture. He may very well be the Saskatchewan Roughriders #1 fan.
Mark Garvie
B.H.K. C.Ped (C) C.Ped Tech (C)
Canadian Certified Pedorthist
---
Mark Garvie was born and raised in British Columbia. He graduated from Trinity Western University in 2003 with a Bachelor of Human Kinetics where he played varsity rugby. After graduation Mark's passion for the outdoors led him to Australia, Scotland, and Switzerland, where, as an outdoor instructor he taught sailing, climbing, kayaking, skiing, and snowboarding. Mark began his Pedorthic training with OKAPED in 2010, completed his certification at the end of 2013 and became a partner in the Vernon clinic in 2021. When he is not seeing patients in our Vernon or Kelowna offices and fitting custom orthotics he can be found water skiing, playing ultimate Frisbee, or riding his motorcycle.
Tamsyn Hendricks
B.Kin C.Ped (C) C.Ped Tech (C)
Canadian Certified Pedorthist
---
Tamsyn graduated from Simon Fraser University with a BSc (Kin) and completed her Canadian Certified Pedorthist training in 2001. She joined Okaped in 2006 working mainly at the Penticton clinic while participating in all of the wonderful outdoor pursuits the Okanagan has to offer! She loves hiking, biking, kayaking, skiing and pretty much anything else that gets her outside. Tamsyn is passionate about keeping people as active as possible and finding solutions to keep people in their game!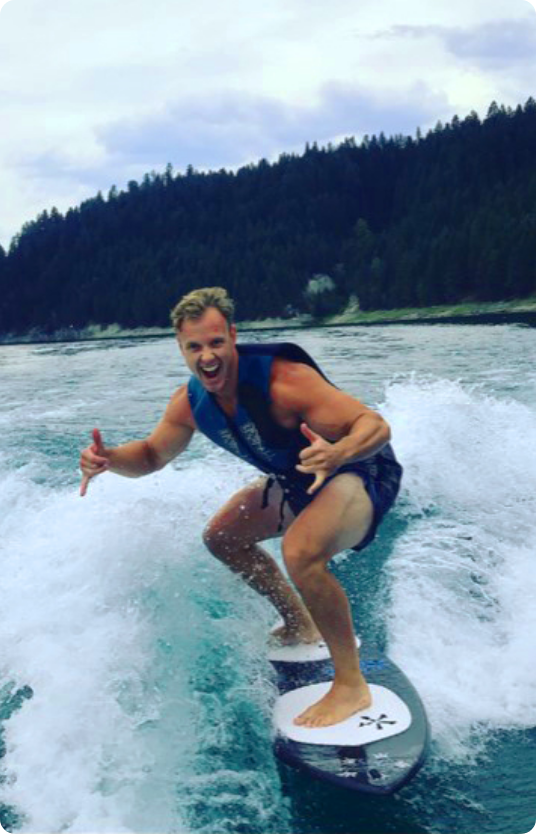 Sam Biggs
B.H.Kin C.Ped (C) C.Ped Tech (C)
Canadian Certified Pedorthist
---
A graduate from University of British Columbia Okanagan in 2016, Sam obtained a Bachelor degree in Human Kinetics majoring in clinical exercise physiology. Sam pursued an opportunity to further his education to specialize in anatomy of the lower limb, gait analysis, custom foot orthotic design and fabrication, footwear, footwear modifications and other complementary lower limb appliances. Sam is a Canadian Certified Pedorthist who completed his training from University of Western Ontario and at OKAPED's custom foot orthoses lab in Kelowna. In 2020, he then obtained his post-degree diploma certification from the College of Pedorthics.
Sam's thorough lower limb assessments and his detail-oriented orthotic design/fabrication give his patients the best opportunity to have a successful outcome. The Pedorthic practice allows him to enjoy an active lifestyle being an avid stand up paddler, cyclist, and skier. He played university level rugby for several years in Alberta and BC before retiring and found a new avenue in resistance training as an interest. Sam enjoys the challenge to investigate a problem, then create a solution and implement it into real life so his patients can live a healthy and active lifestyle.
OKAPED Kelowna Ambrosi Office Team
Liz McMaster
Liz was born and raised in Vancouver. After a ten year career flying the friendly skies as a flight attendant, she hung up her wings and moved to Kelowna to raise her family. She began her career at Okaped in 2011 while studying for her MOA certification. Liz has traveled extensively, but has a lot more to see. In her spare time, she enjoys running in all weather, hiking, and swimming as well. She is just getting her skis back on after a long hiatus.
Iris Fink
Iris provides administrative support at OKAPED's head office in Kelowna and you may sometimes meet her at the front desk as well. Her other job is taxi driver to her very active kids.
After graduating from the University of Western Ontario with a B.A. (Hon.) in Business she worked in Germany for about 1 year before moving to Vancouver and eventually to Kelowna. In the warmer months, when she is not on her SUP, Iris likes to run and hike the local trails. In the winter you can find her on the slopes and Nordic skiing at Silver Star Mountain.
OKAPED Kelowna on Ambrosi
Kirsten Rauhala
Kirsten was born and raised in beautiful Thunder Bay Ontario. She found her way to Kelowna after leaving the busy big city of North Vancouver over 25 years ago. She brings a tremendous amount of experience, enthusiasm and positivity to Okaped. She is an very supportive mother of her two grown kids and outside of work is an avid skier, hiker and wine lover who enjoys riding and commuting on her E Bike to our Ambrosi office.
OKAPED Kelowna on Pandosy
Barb Leinemann
Barb was born in North Vancouver and raised in the Okanagan.  Kelowna is where she met her husband and together they have raised two handsome boys, along with their Golden Retriever cross named Charlotte.
Barb has spent many years working in the community as a health worker always striving to give the very best care to the people she meets. In her spare time she loves all things to do with nature and the outdoors including biking, hiking, camping, or snowshoeing most often with family members, (furry or not) or very special friends.
OKAPED Vernon
Kristina Goldnik
Kristina was born and raised in Germany and moved to Canada in 2005. She eventually found her way to the Okanagan in 2007. She finished her MOA course after high school and started working at OKAPED in 2021. She loves to travel, spend time with family and go for hikes in her spare time.
OKAPED West Kelowna
Ursula Zandvliet
Ursula was raised in Vancouver where she met and married her husband Brian in 1992. She relocated to the Okanagan in 1997, and has lived throughout the valley. She's held a variety of administrative positions over the years, and came to OKAPED in 2012 as the Office Assistant in the West Kelowna clinic. Ursula enjoys meeting new people, hiking, water skiing, kayaking and alpine skiing. She volunteers with the Adapative Ski Program at Big White with her family. Ursula resides in West Kelowna with her husband and 2 children.
OKAPED Penticton
Erynn Carmichael
Erynn moved to the Okanagan initially in 2009, along with her spouse. She has been in the administration field in one form or another for many years and has a passion for serving people well. Outside of work she enjoys music, playing keyboard and singing the blues. She is a big sports fan and also enjoys cycling in the beautiful South Okanagan.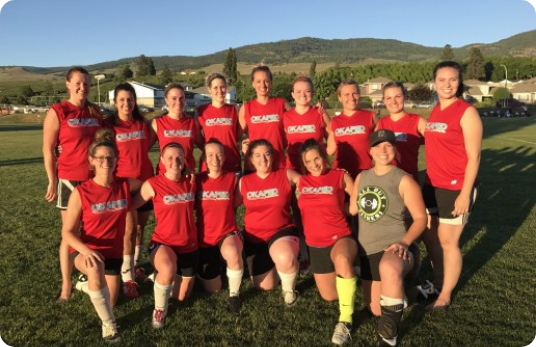 Okaped Soccer Team
Supporting You
The clinical staff are experts in biomechanical evaluations of lower extremity injuries and the effects of disease related complications to the feet and legs.
Initial assessments are booked for one hour so we can accurately understand your biomechanics and condition.